North Cascades River Expeditions
| Home | 10 River Trips | Schedule | FAQ | Prices | Upcoming Trips |
| How to Dress | Related Webs | Guide Training | Responsibility |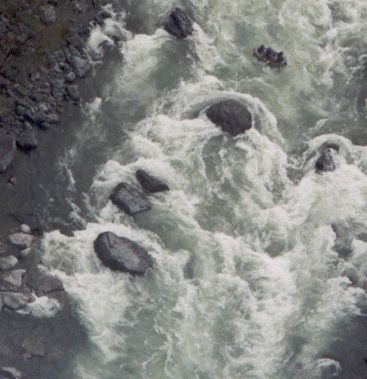 First, the good news: No raft can hit both Ledge Wave and Volkswagen Rock on the same run.
Now, the bad news: Hitting either obstacle usually results in a flip.
Ledge Wave
Ledge Wave lies 10 yards below House Rock. It consists of a huge wave with a massive back-curler that pushes hard from river right to river left. The wave must be taken square on, compensating for the asymmetric push of the hydraulic. If you run Ledge Wave parallel to the river bank, the raft will roll over from right to left. View a sequence of photos illustrating this right-to-left capsize.
Avoid Ledge Wave if you can. Run just to the left of Ledge Wave for best results. If you go left of House Rock and miss Ledge Wave, your run of Boulder Drop has been a success.
Volkswagen Rock

If you run the Mercy Chute at the Picket Fence, of if you run right at House Rock, you will encounter Volkswagen Rock. Look for a thin channel far right of Volkswagen. You must make this channel. Keep working right, running into the boulders on the right shore if necessary. You can also catch a piece of an eddy on the right shore and stop your raft.

If you do not make this far right channel, take in a deep breath: you will certainly flip on Volkswagen at any level between 5000 and 8000 cfs.

At water levels below 5000 cfs, you can high-side successfully. Hang in there. Keep high-siding until the raft works its way off Volkswagen. Rafts seldom wrap on Volkswagen.
If you are swimming at this point:
1. Prepare to be under water for seconds at a time. The violent waves and holes in this section will keep your head below water much of the time.
2. Breathe only when you can see the sky.
3. Just relax until the river washes you below these obstacles.
4. Maintain a positive attitude; enjoy the sublime.
| Home | 10 River Trips | Schedule | FAQ | Prices | Upcoming Trips |
| How to Dress | Related Webs | Guide Training | Responsibility |
North Cascades River Expeditions
PO Box 116
Arlington, Wa 98223
360-435-9548 fax 360-435-0796
Toll Free: 1-800-634-8433
email: rafting@cftinet.com
Copyright 1997-2007, North Cascades River Expeditions, inc. All rights reserved.