North Cascades River Expeditions
| Home | 10 River Trips | Schedule | FAQ | Prices | Upcoming Trips |
| How to Dress | Related Webs | Guide Training | Responsibility |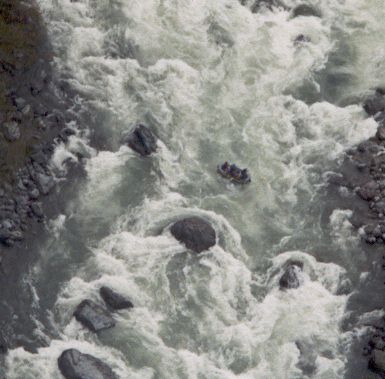 House Rock lies 7 yards downstream of the raft. Little House Rock is downstream and to the river left of House Rock.
Always run to the left of House Rock. If you run right, you will wind up dealing with Vokswagen Rock (located at the lower left edge of this photo). Always avoid Volkswagen Rock.
Accessing the left side of House Rock is not always easy. Be especially careful when approaching House Rock at levels between 3500 and 5000 cfs. A powerful current throws you into House Rock at the very moment it appears you are going to miss it. This process can be amusing if viewed from shore.
If you hit House Rock, high-side immediately. Remain on the high-side until the raft slips off or flips. At 3800 cfs, rafts that hit House Rock usually capsize. At levels above this, high-siding usually works. See a raft hit House Rock at 4200 cfs.
Approaching House Rock
Your goal should be to run to the left (photo right) side of House Rock. How you achieve this depends on which route you have taken through the picket fence.
If you have taken Airplane Turn or Ned's Needle:
You should be set up to easily make the left side of House Rock. However, watch out for a wicked current below Airplane Turn that shoots you across to the right at levels between 3500 and 4500 cfs. If you are caught in this current, fight it, and try to keep your raft in the left channel through hard paddling.
If you have taken the Needle Drop:
You need to contend with a nasty rock North Cascades calls "Rabbit Ears". (Others call this rock "Dragon's Back".) At levels above 5000 cfs, Rabbit Ears is buried. A "Duck Pond" forms to the left side of the Needle. Just access the Duck Pond and move left. The raft in this picture is doing just that.
At levels between 2500 and 4500, you will collide with Rabbit Ears after dropping over the Needle. Make sure that Rabbit Ears does not spin your raft backwards, toward the right. If this happens, you have little chance of making the left side of House Rock. In this case, get ready to high side House Rock, come off to the right side, and prepare your crew for Volkswagen Rock.
If you have taken the Mercy Chute or Havoc:
There is little chance you will make the left side of House Rock. Watch where you are going and get psyched for Volkswagen Rock.
If you are swimming at this point:
1. Panic will be most unhelpful. Embrace the sublime.
2. Have no fear that you will strike a rock. The water prevents you from hitting large boulders on big rivers. The river creates a cushion, as water pushes away from the rock.
3. Relax and get out your E-ticket: here comes the real whitewater swim.
| Home | 10 River Trips | Schedule | FAQ | Prices | Upcoming Trips |
| How to Dress | Related Webs | Guide Training | Responsibility |
North Cascades River Expeditions
PO Box 116
Arlington, Wa 98223
360-435-9548 fax 360-435-0796
Toll Free: 1-800-634-8433
email: rafting@cftinet.com
Copyright 1997-2007, North Cascades River Expeditions, inc. All rights reserved.