North Cascades River Expeditions
| Home | 10 River Trips | Schedule | FAQ | Prices | Upcoming Trips |
| How to Dress | Related Webs | Guide Training | Responsibility |
Skykomish River
Note: All participants will be asked to sign a special Boulder Drop release form. View the special Boulder Drop release form.
Complex, boulder-strewn rapids are set in rugged mountains. Boulder drop is only the most famous of the falls-like rapids that test whitewater navigation under exciting conditions. Aquagasm, The Weir, Cable Drop, Upper and Lower Railroad, Fisherman's Bend, and Nosferatu are all no nonsense rapids with powerful holes, vertical chutes, and big blocks of granite in the way. Prepare to go for it if you are physically fit and ready for adventure.
Elements of Boulder Drop provides a detailed description of the rapid.
Meeting Place: We will meet at a public fishing area known to rafters as Big Eddy. To reach Big Eddy, take US 2 to Gold Bar. 1.2 miles east of Gold Bar, US 2 crosses the Skykomish. Big Eddy is across the bridge and to the right. Use caution: the most dangerous leg of a raft trip is the drive to the river.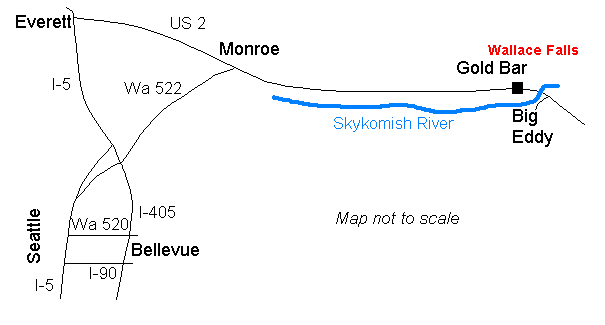 Meeting Time: Our usual meeting time is 9 a.m. Please confirm this time when you make reservations.
Camping: Wallace Falls State Park, Gold Bar, 360-793-0420. National Forest camping in this area is limited and the campgrounds that do exist are often closed. For current information, contact the Skykomish Ranger Station at 360-677-2414.
Lodging:
Cascadia Inn, Skykomish, 360-677-2030
Whispering Waters, Baring 360-793-7616
Brookside Motel, Monroe, 360-794-8832
Fairground Inn, Monroe, 360-794-5401
Season and Water Source: The Skykomish drains a vast area of the western slopes of the Cascades. Rain or melting snow keep the Skykomish runnable for much of the year. We begin our season in mid-March and run until mid-May. We usually stay off the Sky during the heavy melt-off of June. July is the best month to run.
Minimum Age of Participants: 18
"Of the three river rafting trips I've taken, last weekend is unsurpassed. Not only is the Skykomish the more exciting river, but North Cascades River Expeditions is far and away the superior guiding company. All of the equipment, from the boats to the bus, was excellent. The whole trip was well organized and professional. The guides were personable and knowledgeable. All in all, we had a hell of a good time. --Dick
| Home | 10 River Trips | Schedule | FAQ | Prices | Upcoming Trips |
| How to Dress | Related Webs | Guide Training | Responsibility |
North Cascades River Expeditions
PO Box 116
Arlington, Wa 98223
360-435-9548 fax 360-435-0796
Toll Free: 1-800-634-8433
email: rafting@cftinet.com
Copyright 1997-2014, North Cascades River Expeditions, inc. All rights reserved.