North Cascades River Expeditions
| Home | 10 River Trips | Schedule | FAQ | Prices | Upcoming Trips |
| How to Dress | Related Webs | Guide Training | Responsibility |
Tieton River

The Tieton offers springtime whitewater action in September. Fed by a surge of water from Rimrock Lake, the Tieton races downstream, dropping over 50 feet per mile throughout our run. Rapids come fast and furious. Large waves occur frequently, and big, vertical drops are everywhere. Come ready to paddle and to enjoy the excitement of a wild ride down a whitewater roller coaster.
Meeting Place: We will meet at a wide pull-off on the south side of US Highway 12 between Milepost 180 and Milepost 181.This place is called Nissan Flat but there are no signs. Coming from the west, the correct pull-off is 7.6 miles from the town of Rimrock Retreat (also known as Trout Lodge), and 3 miles past Windy Point Campground. Coming from the east, the pull-off is 4.9 miles from the intersection of Highway 12 and Highway 410. Highway 12 is a major highway. Please use caution as you approach the pull-off. Allow 3 hours driving time from Seattle.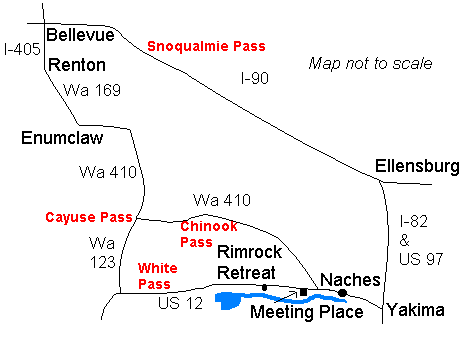 Meeting Time: Our usual meeting time is 9 a.m. Please confirm this time when you make reservations.

Camping: Good camping is available at National Forest Campgrounds along Highway 12 east of Rimrock Lake. For further information contact the Naches Ranger Station at 509-653-2205.
Minimum Age of Participants: 10
"I just wanted to drop a quick note to let you know how much fun I had rafting the Tieton, and how much I appreciated the hospitality that was extended to me by you and all of the NCRE guides." –John
"What an experience. I'm ready to go again. Thank you for introducing me to a real thrill. I'll be back" --Judy
| Home | 10 River Trips | Schedule | FAQ | Prices | Upcoming Trips |
| How to Dress | Related Webs | Guide Training | Responsibility |
North Cascades River Expeditions
PO Box 116
Arlington, Wa 98223
360-435-9548 fax 360-435-0796
Toll Free: 1-800-634-8433
email: rafting@cftinet.com
Copyright 2023, North Cascades River Expeditions, inc. All rights reserved.