North Cascades River Expeditions
| Home | 10 River Trips | Schedule | FAQ | Prices | Upcoming Trips |
| How to Dress | Related Webs | Guide Training | Responsibility |
Methow River
The Methow combines high water volume with a healthy gradient to produce 17 miles of unparalleled rafting excitement. Threatening holes (Joseph Stalin, Winston Churchill, the Black Hole and others) must be avoided as we rise and fall with the river's massive waves. Big Gulp, Black Canyon, Staircase, and many other Class IV rapids make this run the very best whitewater in Washington.
Meeting Place: We will meet at a Public Fishing Area on Highway 153, 3.5 miles north of the town of Methow and 8 miles south of Carleton. The Fishing Area is across the river from McFarland Road.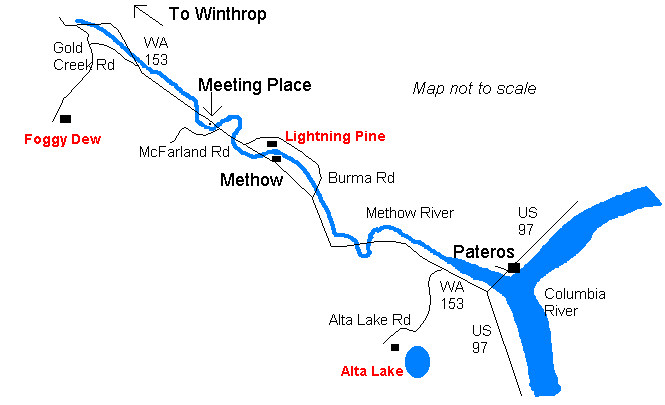 Meeting Time: Our usual meeting time is 9 a.m. Please confirm this time when you make reservations.
Camping:
Alta Lake State Park is located 2 miles west of Pateros off Highway 153. RV hookups are available. You must arrive before 10 p.m. the night of your stay. Phone: 509-923-2473.
Lightning Pine RV & Recreation Park is located across the river from the town of Methow. The park has RV hookups, tent sites, and cabins for rent. Phone: 509-923-2572.
Lodging:
Pateros: Amy's Manor, 509-923-2334; Lake Pateros Motor Inn, 509-923-2203
Alta Lake: Golf Motel, 509-923-2359
Winthrop: Virginian, 509-996-2536
Season and Water Source: Melting snow from the east slopes of the North Cascades provides most of the Methow's water. May and June are the best months to paddle the Methow. In years of heavy snowpack, the Methow can be run throughout July.
Minimum Age of Participants: 10
"It was a wonderful experience made even better by our guide who was simply terrific. We will definitely raft with you again. Thanks for helping create a lasting memory." --Dick
"I'd like to thank you all for an exciting, electrifying, unforgettable introduction to white water rafting. As soon as my heart rate returns to normal, I'll be looking to sign up for another trip!' --Sylvia
| Home | 10 River Trips | Schedule | FAQ | Prices | Upcoming Trips |
| How to Dress | Related Webs | Guide Training | Responsibility |
North Cascades River Expeditions
PO Box 116
Arlington, Wa 98223
360-435-9548 fax 360-435-0796
Toll Free: 1-800-634-8433
email: rafting@cftinet.com
Copyright 1997-2017, North Cascades River Expeditions, inc. All rights reserved.