North Cascades River Expeditions
| Home | 10 River Trips | Schedule | FAQ | Prices | Upcoming Trips |
| How to Dress | Related Webs | Guide Training | Responsibility |
Green River
A voyage through the Green River Gorge is an exceptional whitewater journey, fraught with challenge, danger, excitement, and thrills aplenty. The rapids are numerous, continuous, and richly varied. Four major ledges must be negotiated, including the famous Mercury. Crew camaraderie and concentrated attention to rafting fundamentals are crucial for a safe run. Come ready for action, because you're going to get it.
Meeting Place: We will meet at Flaming Geyser State Park, our take-out. To reach Flaming Geyser, arrive in Black Diamond. Travel south on Highway 169 approximately 2 miles and turn right, following the signs to the park. Once you enter the park, wind your way back to the main parking area, near the picnic area and restrooms. This is where we will meet and distribute wetsuits. Be careful to obey the speed limit when driving through the park.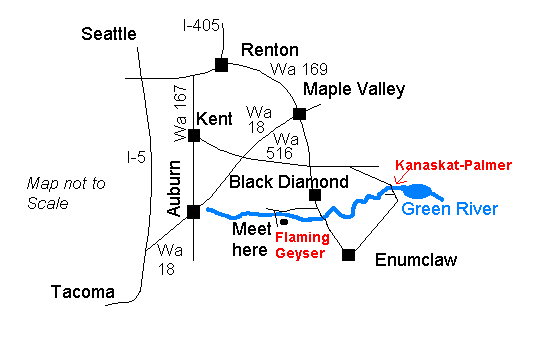 Meeting Time: Our usual meeting time is 9 a.m. Please confirm this time when you make your reservations.
Lodging: Green River Gorge Resort, 253-886-2302
Camping: Kanaskat-Palmer State Park, 253-886-0148
Minimum Age of Participants: 16
How to Dress for Comfort and Safety: Wetsuits are required on this trip. A farmer john wetsuit and wetsuit booties are best. However, farmer john wetsuits have no arm and shoulder insulation. You need to bring additional clothing.
Over your wetsuit, plan to wear wool, polypropylene, or, better, nylon pile (but never, never cotton). Add layers for colder conditions.
Your final layer should be a paddling jacket. This can be a nylon windbreaker, a rain jacket, or a mountain parka. The purpose of the paddling jacket is to keep your insulation dry.
Wetsuit booties can be supplemented by wool, polypropylene, or neoprene (wetsuit material) socks for more warmth. Keep in mind that your feet may be in cold water for the entire trip. We also recommend that you wear neoprene gloves and bring a stocking cap without a ball to wear under your helmet.
Renting a Wetsuit from us: We offer our clients the service of wetsuit rental. This service is not included in the price of your trip. To rent a wetsuit from us you must make arrangements in advance. You may reserve a wetsuit by mail or phone. To insure a good fit, we need to know your height, weight, and shoe size.
We charge $15 per day (13.95 + 1.05 sales tax) for a farmer john wetsuit and wetsuit booties. We will give you your suit and booties when we meet you at the river. We suggest you arrive wearing a bathing suit under your clothes to facilitate modest changing.
"Not only was the trip very enjoyable and exciting, the competence and professionalism of our guide was very apparent as well. His safety consciousness was very reassuring." --Vicki
| Home | 10 River Trips | Schedule | FAQ | Prices | Upcoming Trips |
| How to Dress | Related Webs | Guide Training | Responsibility |
North Cascades River Expeditions
PO Box 116
Arlington, Wa 98223
360-435-9548 fax 360-435-0796
Toll Free: 1-800-634-8433
email: rafting@cftinet.com
Copyright 1997-2017, North Cascades River Expeditions, inc. All rights reserved.